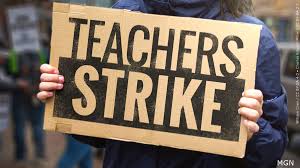 Important Information for all parents and carers
The National Education Union are on strike again on Thursday 27th April and Tuesday 2nd May 2023. Many schools across the town, region and country are affected.
We will only be open to a small number of pupils, priority will be given to those pupil sitting examinations. The families of pupils expected to attend will be contacted directly. We apologise for the short notice and disruption to your child's education, this decision has been made after considering all options based on
the information we have from union members
taking into consideration the Health and Safety implications of the strike action based on the number of teaching staff we will have available
Lunch parcel arrangements for pupils entitled to free school meals, who are not able to attend school as normal, will also be made. Thank you for your continued support.